Accept Payments On Your Website
Accept All Credit
Cards Globally
Joining forces with Allied Wallet will give you powerful capabilities to send and receive credit card payments online on a global scale. Whether you have opened your virtual business doors or will be opening in the near future, you can begin to accept credit cards online the minute your site goes live.
Allied Wallet is a top-rated online credit card processing company and the best choice when you need a fully secured payment gateway that you can rely on. With a flat rate as low as 1% and the ability to accept credit cards online in 196 countries worldwide, our extensive service range can help all types of business, no matter how small or large they are. Sign up today to start accepting credit cards hassle free.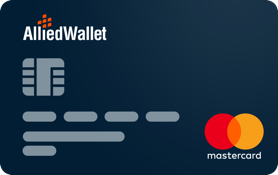 Are You Ready To Accept Payments Online?
Choose Allied Wallet as your Primary Payment Processor and accept 164 currencies from all over the world. You'll accept payments in 196 countries and settle your profit straight into your bank account in any of 25 currencies.
Allied Wallet protects your business and all your transactions with PCI Level 1 Compliance and state-of-the-art Fraud Scrub technology, then track your transactions with a robust reporting system and payment gateway. Integrate in just 12 hours.
or
Do You Already Accept Credit Cards On Your Website?
Use Allied Wallet as a back-up plan and choose our services as an Alternative Payment Option. Send Allied Wallet your declined transactions or accept alternative payment methods with Allied Wallet that your other payment processor cannot process.
Many companies have integrated Allied Wallet as an Alternative Payment Option and have been able to save an average of 12% of their total sales, recovering 68% of their previously declined online credit card processing transactions.
With Allied Wallet, you're not limited to a few major credit card companies. In fact, you can process a wide variety of credit cards including Visa, MasterCard, American Express, and many other international payment options.
Solutions that Fit Your Business
Our credit card processing services aren't a one size fits all affair. We have a range of services designed to meet the needs of businesses of all size. Call today to find the perfect service match for your business.
QuickPay
Small and mid-sized businesses thrive with this cost-effective, online credit card processing service. With QuickPay, your business can accept credit cards quickly and easily. QuickPay is seamlessly integrated into your existing order management software and shopping cart. It's hassle-free, affordable, and provides all of Allied Wallet's signature security features.
Cost-effective design
Accepts almost every global currency
Extensive plugins
Direct Integration
Large corporations with a high volume of online sales benefit most from our Business Pro service. This versatile payment processing system integrates with your shopping cart and order management software, while providing a greater degree of customisation and branding. If your business depends on online sales, Business Pro is your gateway to profitability.
Custom design to suit your store
Hosted checkout process
Get started with Allied Wallet
Contact our representatives for further information about our products and services. We will be more than happy to help. Let us show you how our payment gateway solutions can be beneficial to your business.